Has anyone else noticed how skinny Jersey Shore's 'Sammi Sweetheart' has gotten? I'm starting to think that it is looking unhealthy. Apparently, Sammi has just been eating the right things. She's given Life&Style magazine the secret to her weight loss: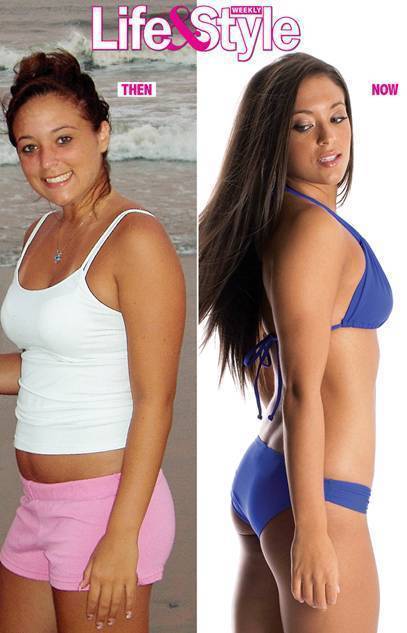 Jersey Shore's Sammi "Sweetheart" Giancola gives Life & Style the skinny on how she shed the bloat while still partying up a storm down in Miami for Season 2 of the hit MTV show. "I just changed my diet, and the next thing you know the pounds just came off," Sammi tells Life & Style. The reality star, photographed here exclusively for Life & Style, lost a whopping 15 pounds -- without missing out on any of the fun. The first order of business: cutting out the carbs. "I miss it like crazy, but I don't eat pasta anymore," she tells Life & Style. "I eat my vegetables and try to stay healthy."






Sammi also worked off the extra partying calories with an intensive cardio routine. "I do soccer drills -- I jog a lap, then sprint, jog the rest of the way, then sprint again," she says.






"You have to look good in Miami because beautiful people are everywhere you look! You don't want to turn into a slob," Sammi tells Life & Style. And to finish off her new beach-ready look? The gals' version of the Jersey Shore guys' mantra, GTL (gym, tanning, laundry): "HNT -- hair, nails, tan!" she cheers.